Wishfully, you have had a great spring season. Here at Timegate, we are going at full steam ahead of this year as we have completed first pilots, welcomed a new team member and participated to couple of events. Let´s have a closer look at our this year's activities and publications so far!
Special news



One of these events Timegate participated was Testa Challenge in Sweden, Uppsala. We were showcasing and documenting our technology for over two weeks at the end of March. We had great results monitoring the bioprocess. The results are published very soon, stay tuned! Read more about the challenge, and our participation: Timegate in Testa Challenge 2022!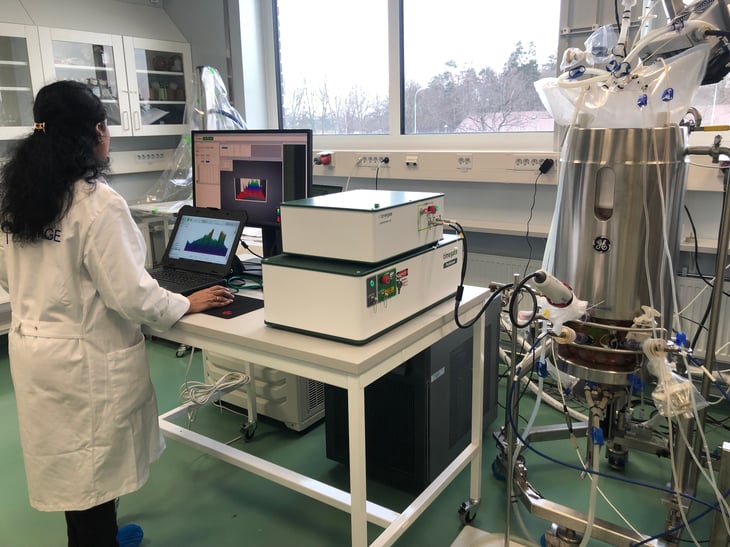 Timegate's Dr. Amutha Daniel monitoring the bioreactor with time-gated Raman in the Testa Challenge.
First reference case
We are delighted to inform you that we have our first reference case coming up! The University of Helsinki was our first client to have purchased our first instrument, the PicoRaman spectrometer. We are excited that our customers are satisfied with our products and services, and therefore the relationship continues. More reference cases coming during this year!
``Fluorescence has been one of the problems in our measurements and analyses of biomolecules before we got access to time-gated Raman technology. Previously, we were unable to measure the Raman spectra of some small-molecule drugs and biomolecules, due to their high fluorescence background. Currently, with time-gated Raman spectrometer we have succeeded by detecting the Raman spectra of the fluorescent molecules. In addition, we were able to distinguish the extracellular vesicles (EVs) from different cellular origins based on their Raman spectra and principal component analyses, which was not achievable earlier with continuous wave Raman spectroscopy. As we have overcome various problems with time-gated Raman, we have already acquired the first and second generation instruments, and now we are collecting the funds to purchase the Microprobe to further widen our research. Time-gated Raman spectroscopy is highly advanced, sensitive and user friendly technology for biopharmaceutical measurements.``

-Professor Marjo Yliperttula, University of Helsinki
This year's first pilot
Timegate Instruments in collaboration with VTT Bioprocess Engineering and Optical Measurements team carried out a pilot study where we monitored the bioprocess of ovalbumin production with Timegated® Raman spectroscopy. The results with our time-gated Raman were ecxellent as it sensed the molecular level changes long before the more distinct changes happened.
Find out more about the ecological pilot and promising results:
We are excited to have multiple upcoming pilots this year. We will post about these pilots on our website's news and also on our social media platforms, LinkedIn and Twitter.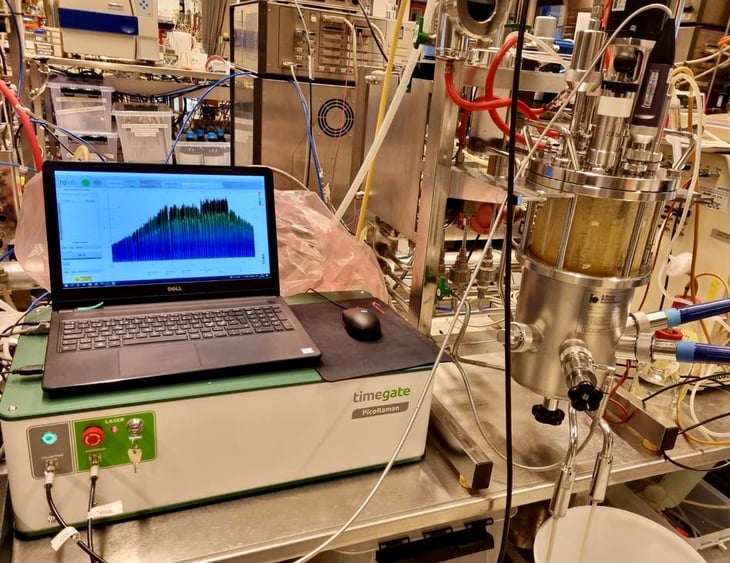 Timegate's PicoRaman monitoring the ovalbumin production process.
New time-gated publications
Upcoming events



Even though various events have been either postponed or canceled, there are events booked in our calendar, in which we are gladly participating. We hope to see you at these events!
IFPAC, June / Washington D.C., USA
ICORS, August / Long Beach, California, USA
SciX, October / Cincinnati, Kentucky, USA
We have new publications on our Resource Bank! Check all the brochures, case studies, white papers, and application notes. Whenever you want to discuss your applications and time-gated Raman spectroscopy, please do not hesitate to contact us.
Timegate wishes you a sunny upcoming summer!