It is finally time to have a closer look at the interesting results of the pilot studies carried out by Timegate Instruments in collaboration with VTT Bioprocess Engineering Espoo and Optical Measurements Oulu teams. If you have not had the chance to read our last news post about this pilot, you can find it by following this link Bioprocess monitoring with Timegated Raman improves the production efficiency.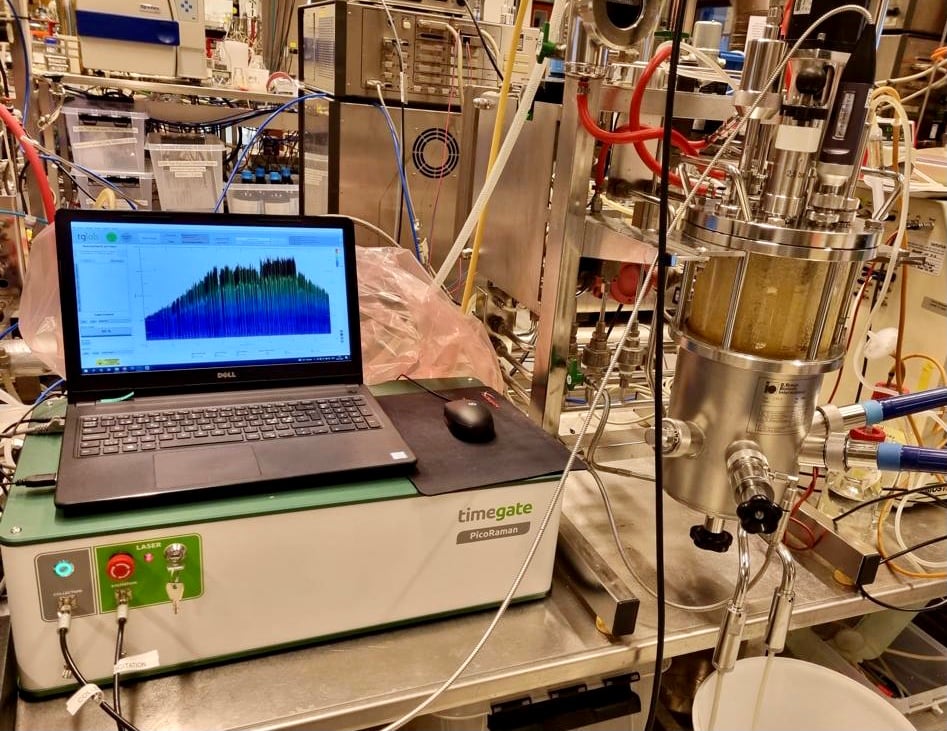 Timegated PicoRaman Spectrometer is attached to one of the bioreactors.
Final stages of the pilot study
The final step of this bioprocess monitoring study was to stress Aspergillus fungus to sporulate, so that we could determine if time-gated Raman sees the stress signals before the actual sporulation sets in. This is a critical parameter to be monitored during bioprocess because the microorganisms need to maintain healthy to be able to produce the important products, in this case protein. In the end of the fermentation the organism was subjected to starvation by stopping the substrate feed to promote sporulation.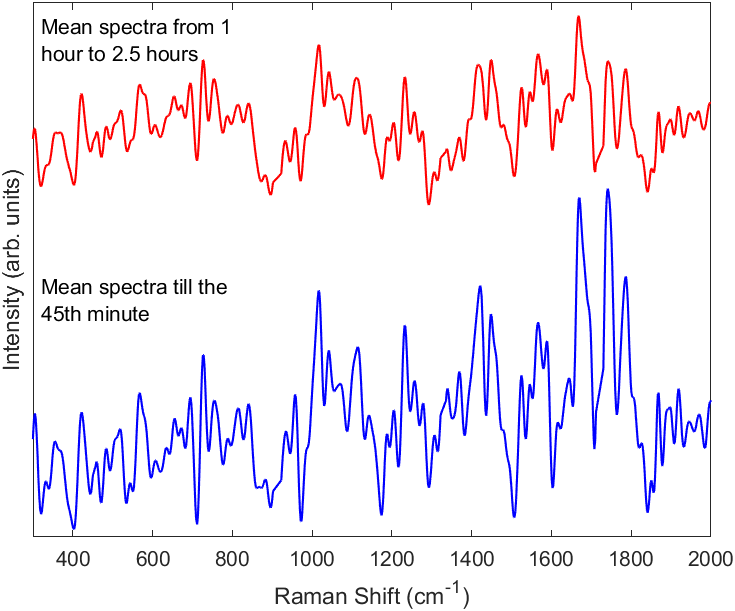 Time-gated Raman predicting the major shift in the bioprocess.
Time-gated Raman sensed the changes long before the distinct changes happened
Time-gated Raman predicted there would be a major shift in the bioprocess 45 minutes after the starvation was induced. There was a rapid reduction in lipid (ester bond) intensity and the protein band. This may be attributed to the shift in metabolic pathway due to the lack of glucose. Furthermore, there was a significant reduction in the background fluorescence. On the other hand, the microscopic study was able to see only the rounded edges of only a few Aspergillus filaments after 2 hours but not any sporulation. Hence time-gated Raman sensed the molecular level changes long before the more distinct morphological changes happened.
Following these promising results, stay tuned to see the unseen this spring. Further pilots are on the way!