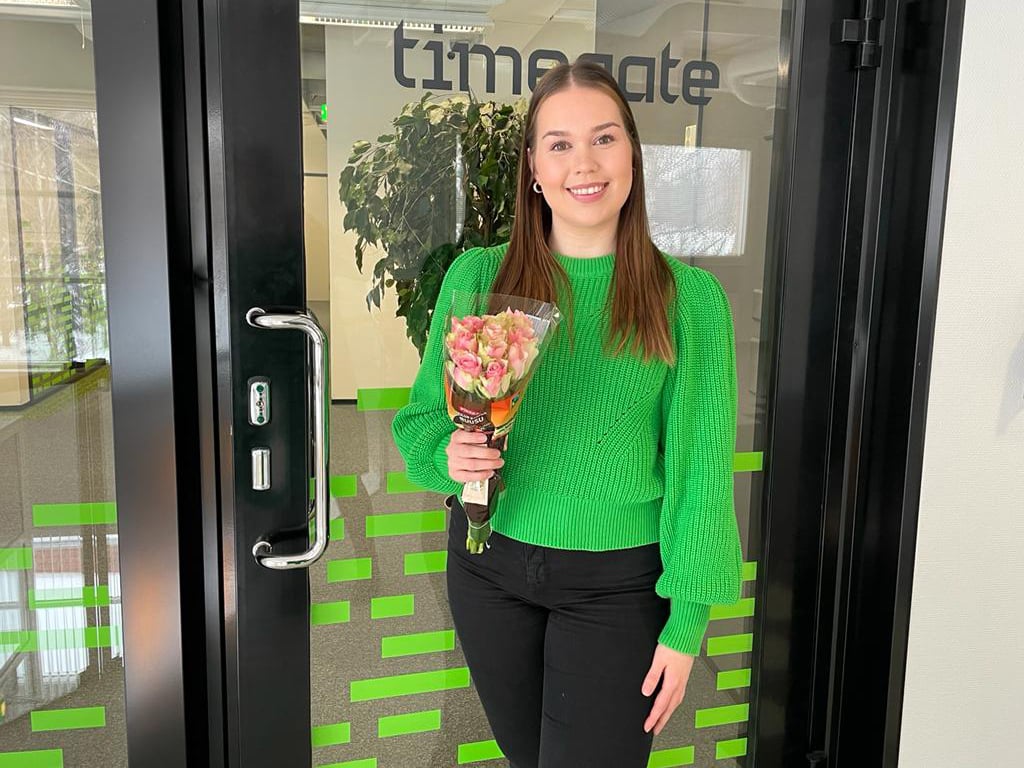 Roosa Klaavo started as a Marketing and Communications Trainee at Timegate on January. Roosa is studying her final year of business economics, and she is on her way to become a versatile marketing and sales professional.
By the end of this year, she will be graduating as a Bachelor of Business Administration. Her trainee period ends today the, and she will be continuing at the service of the company due to her great contribution and impressive results as a trainee.
Why did you choose Timegate, and were your expectations met?
I chose to complete my trainee period at Timegate because right from the company´s trainee announcement I felt that this company offers me great knowledge and challenges. Timegate offered me an international work community, diverse work assignments with topics I was particularly interested in, the possibility of employment after the trainee period, and of course the challenge of doing marketing and communications in the technology field which was a totally new field to me.
After the interview, I knew this position was for me. What convinced me was that I would work side-by-side with well-experienced Elina Aronen-Raappana, and she would guide me through my path in marketing since she has had a lot of different experiences in the field. It also did not hurt that in addition to Elina, Timegate's CEO Mari Tenhunen, who joined the interview, was friendly, warm and very welcoming.
The mentioned reasons were why I chose Timegate, and all were fulfilled. My trainee period was everything promised in the job description and even more. Besides the wide-ranging work tasks and the amazing and professional work community, Timegate was also very flexible regarding remote working and working hours in general. Furthermore, I was trusted enough to make my contribution and voice my ideas freely. I was also trusted with numerous responsibilities right from the beginning and that trust enabled me to learn and grow.
What experience and knowledge did you bring to Timegate?
As I am studying my final year of business economics and I have specialized in marketing and sales, I had a lot of just learned knowledge around these topics. During my studies, I have learned the basics of business in general and a good foundation in modern marketing and sales. However, the biggest learning opportunities have been through diverse projects I have done for various companies during my studies.
My past employments have been around customer service and sales work. From these experiences, I have learned a good handful of things. For example, I learned organizing skills and prioritizing which enabled me to reach my full efficiency. Coming from an entrepreneurial family, I have also learned to see the bigger picture. When I was involved in the family business at a young age, I got to see how selling processes progress and how important effective marketing is for a business' success.
What did you do as a Marketing and Communications Trainee and what was your favourite task?
One of the best things during these three months has been the ever-changing work tasks. I have been mainly responsible for content creation for newsletters, Timegate's website in a form of news and blogs, and social media platforms such as LinkedIn and Twitter. Also, my day-to-day tasks have been handling Timegate's info email, social media accounts and leads.

Furthermore, I have conducted marketing and communications plan with my mentor Elina as well as created social media marketing campaigns. I have also been getting to know about SEO and SEM and spotting improvements in those topics. Simultaneously with on-page SEO planning, I have focused on Timegate's coming website upgrade. In addition to all this, I have been improving our marketing automation by enhancing targeting, creating templates, automatic follow-up emails and page redirects.
Surprisingly, I was also offered to go on an almost three-week-long work trip to Sweden, Uppsala where I filmed a lot of marketing material, created content for Timegate's blog and social media and prepared and filmed interviews. This work trip has to be my favourite task because it was so educational to learn not only about marketing but also about biopharmaceutical processes and meet a lot of professionals from various fields. If you wish to know more about the trip: Timegate in Testa Challenge 2022!

What have been your biggest learning experiences during these three months?
I have learned so much about doing marketing and sales in practice. Even though, Oulu University of Applied Sciences prepares you well with hands-on assignments, you cannot compare school to actual working experience.

Since Timegate is a start-up company, I have learned the importance of marketing and sales integration. We have had a sales & marketing meeting every week and that is very important for keeping everyone on the same page as well as playing together for achieving our goals.
On a more personal level, I have learned that it is okay not to know everything right away. Since I am very ambitious, it was hard for me at the beginning. Luckily, my mentor Elina has been extremely supportive and understanding and she has taught me a lot. I like to think that every day you can learn something new if you are willing to hear the lesson.
How do you counterbalance working?
Well-being is very important topic to me. I am always seeking for a balance. I have learned a couple of things about how to keep everything balanced and pleasant.

It is important to separate work and free time. Sometimes it is hard to keep your mind out of work topics during your free time, but it is necessary, so you do not overload. Also, enjoyable free time is one thing. I like to give my mind some time to relax and recover from the day as well as give my body some movement to release stress.
All in all, in my opinion, the key is that the work must be motivating and challenging while the work community should be supportive and easy-going. It is so much easier to bounce new ideas when the work atmosphere is funny as well as professional. During my trainee period, I and my mentor Elina have laughed a lot. That keeps me in a good mood to do my work efficiently.
What future holds for you?
Now, I am starting to work part-time as a Marketing and Sales Assistant at Timegate. During the summer, I get to start my thesis which I am very excited, and we are doing it together with Timegate. By the end of this year, I will graduate and next year I will start working full time at Timegate. I am ready to learn everything I possibly can about marketing and sales.
In the future, I would like to continue my studies after my bachelor's degree. Also, I am interested to explore and learn more about business development, leadership and entrepreneurship. For now, I enjoy that this trainee period went well, and I am looking forward to my new challenges as a Marketing and Sales Assistant.