FAQ series: This series of publications explores some of the most frequently asked questions regarding Timegated® spectrometers and measurements without having you read page after page of text.
Timegated® Raman spectrometers can be used with a wide range of applications and this also requires flexibility with sampling solutions. Although some manufacturers choose to limit probe compatibility to proprietary designs, PicoRaman spectrometers are designed to work well with a wide range of first- and third-party measurement probes.
Due to the spectrometer design and 532nm excitation wavelength, the probes must still fulfill a basic set of requirements which are listed below. Please contact the Timegate Instruments team to verify probe compatibility.
Probe requirements:
Compatible FC connectors

105µm excitation fiber

200µm collection fiber (can be

larger, but some collection efficiency may be lost)

Compatible with

532nm excitation (probe filters

chosen for this

wavelength

)

Due to

the time-resolved aspect, the

probe

cable

length

should be limited to

max.

10m

/

32ft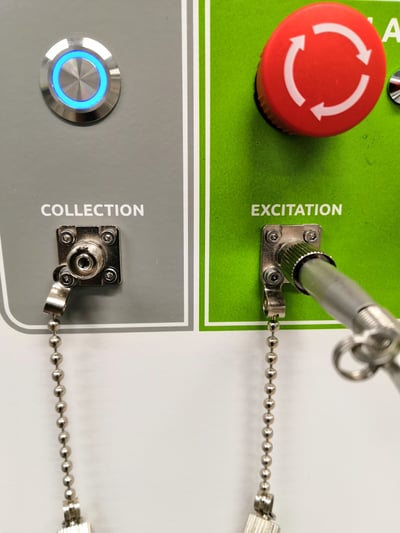 Probes are attached to the PicoRaman spectrometer by using FC connectors.
PicoRaman spectrometers and the more robust industrial spectrometers for the MonitOre monitoring service [link] have been used with a wide range of probe types:
Non

-contact measurement probes are

most

commonly

used

in laboratories

.

PicoRaman spectrometers are often shipped with non-contact probes which are

compatible with SampleCubes

[link]

.

PicoRaman can also be used with mic

roscopes

. Please click here for more details:

[link]

PicoRaman is compatible with a wide variety of immersion probes.

As the name suggests, these probes are immersed in the measured material which can be especially useful when measuring

liquids,

slurries,

or gels.

T

ime-gating pro

vides

unique benefits when measuring high temperature materials (

For more information

:

[link]

)

and because of this, thermally resistant

probe designs are often required.

One such PicoRaman compatible probe setup is shown

in our previous post:

[link]

.

For specialized application needs

,

please contact our team

as

Timegate Instruments

includes talented optical designers

who

can

create customized probe solution

s

best suited for your application

.
PicoRaman and industrially compatible probes are available for both laboratory applications and for more challenging environments.