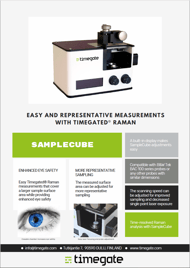 Easy and representative measurements with Timegated® Raman spectroscopy
The SampleCube enables measurements from a larger sample surface for more representative measurement results. The SampleCube is suitable for measuring flat or flattenable solid samples, but also liquid samples.
A closable sliding door of the SampleCube enhances the users eye safety while using powerful laser sources.
Download the brochure by filling in the form and learn more about the SampleCube possibilities!
You will get a follow-up e-mail with a download link. If you don´t receive the e-mail in a few minutes, check your trash folder.