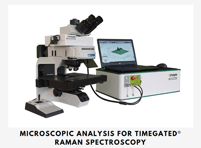 Microscopic analysis for Timegated® Raman spectroscopy
Raman Microprobe is an easy to install accessory to all Olympus BX and CX series upright microscopes that brings microscopic analyses to Timegated® Raman spectroscopy. The microscope adapter provides new research opportunities and open up wide selection of application areas.
Download the brochure by filling in the form and learn more about the Raman Microprobe!