Duquesne University, Pfizer, and NIPTE Project to Improve Bioreactor Monitoring with Timegated® Raman
Duquesne University, Pfizer Inc., and National Institute for Pharmaceutical Technology and Education (NIPTE) have launched a research project called Time-gated Raman Spectroscopy to Improve Chemical Sensitivity for In-situ Bioreactor Monitoring.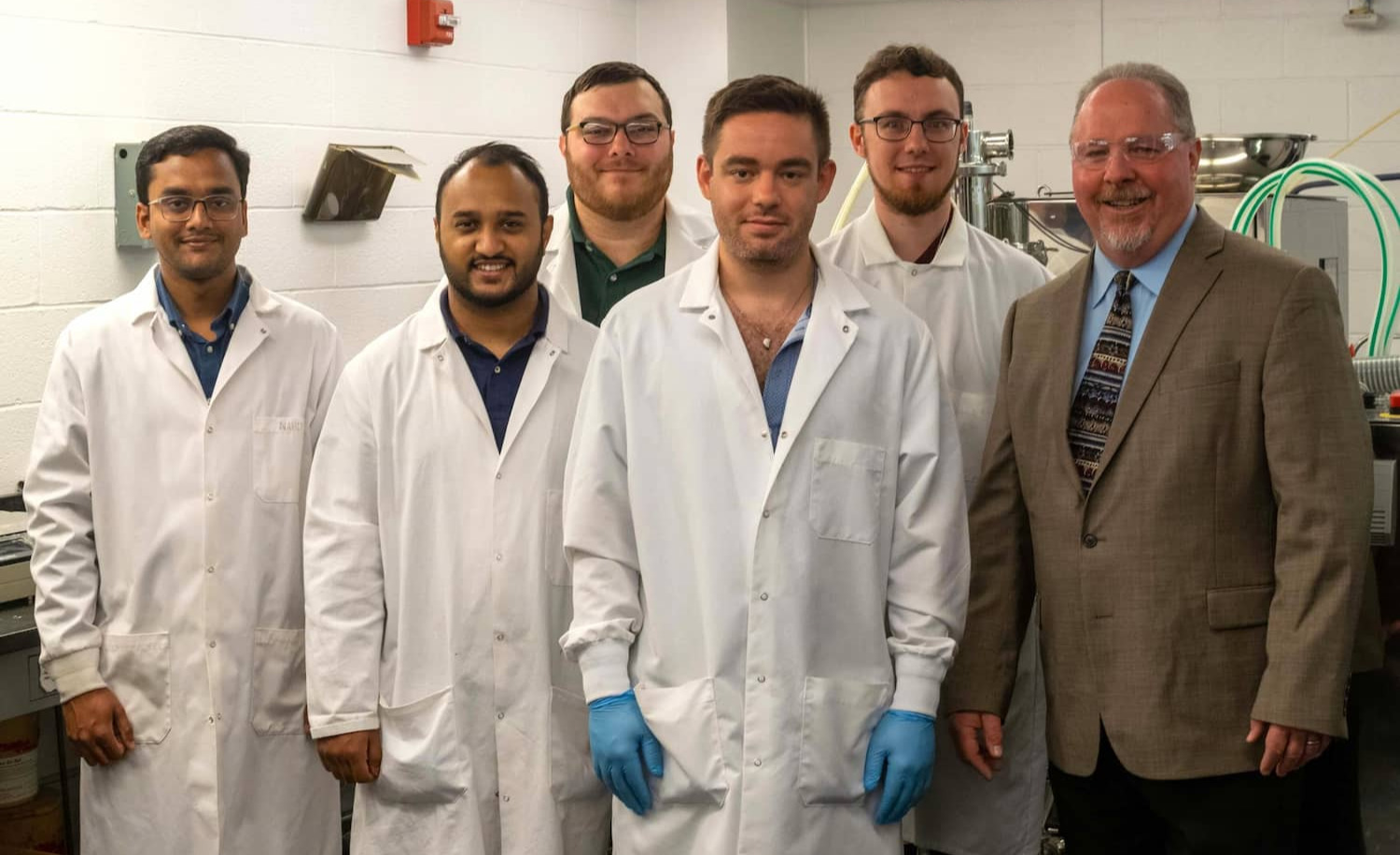 Dr. Carl Anderson, the project leader, and his research team at Duquesne University (with Dr. Anderson on the right) are conducting the Time-gated Raman Spectroscopy project to enhance chemical sensitivity for in-situ bioreactor monitoring.
Timegated® Raman spectrometer PicoRaman M3 was delivered to Duquesne University with the support of Timegate Instruments' U.S. distributor McCrone Microscopes & Accessories who had enabled the collaboration. The 18-month project started in Pittsburgh, USA, and is funded by National Institute for Innovation in Manufacturing Biopharmaceuticals (NIIMBL).
Associate Professor of Pharmaceutical Sciences and Associate Dean in Research and Graduate Programs, Dr. Carl Anderson, is leading the project and explains the background and use of Raman spectroscopy as it has become a relatively mature technology in the pharmaceutical field and biomanufacturing:
Specifically, for upstream bioprocessing or fermentation processes it's been proven very valuable to monitor cellular metabolites as well as cellular nutrients. However, the use of Raman spectroscopy has been limited by factors in the culture that cause excessive interference and one of the biggest interferences is fluorescence emission. This project is about applying time-gated Raman spectroscopy as a way of removing fluorescence from the measurements.
– By having a better limit of detection of both cellular metabolites as well as nutrients in the media, the current chemical state of a bioprocess can be more accurately understood. Therefore, we can control it much more effectively, he continues.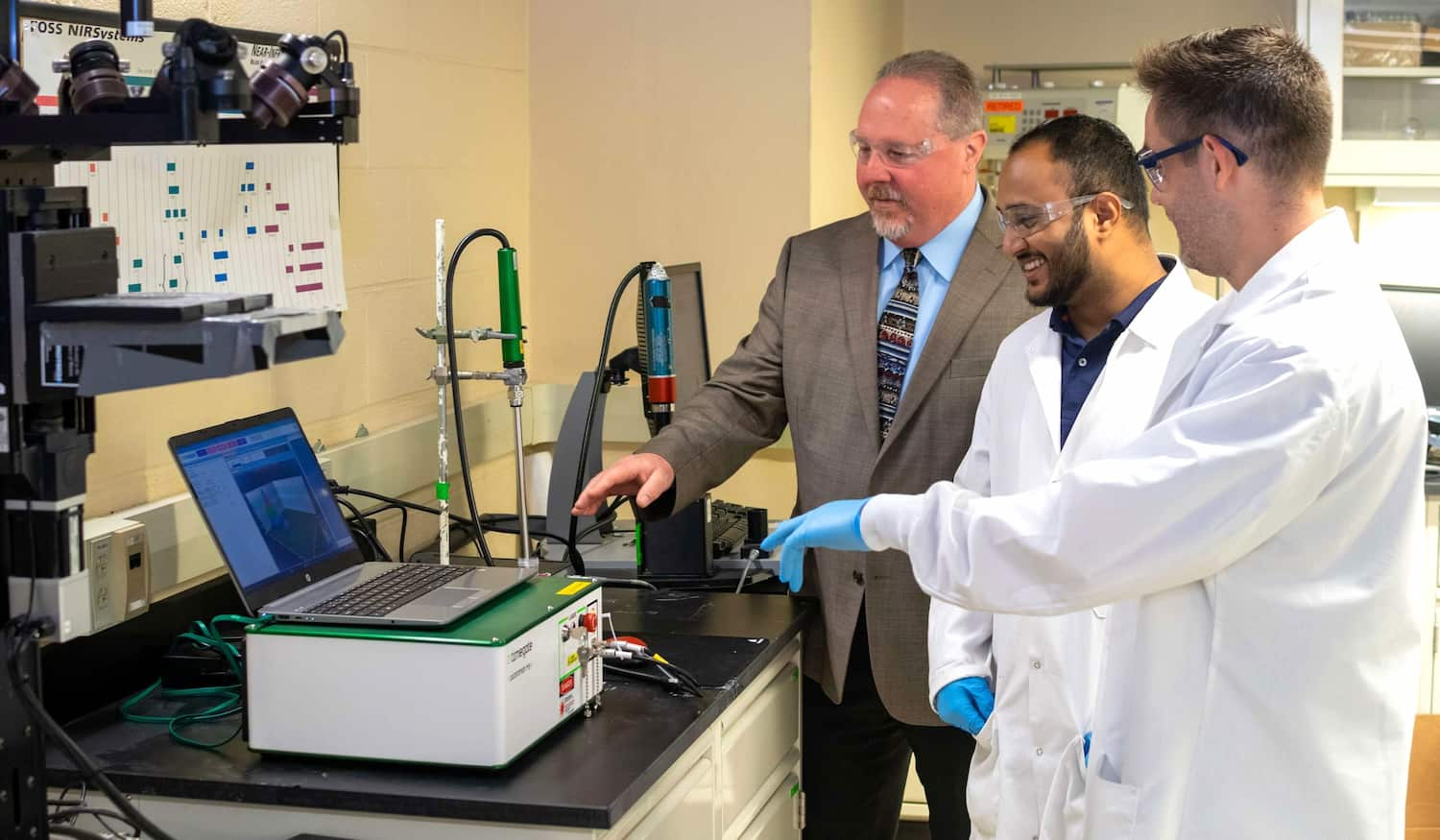 Dr. Carl Anderson and his team members are utilizing the PicoRaman M3 spectrometer with the ProbePro Mini add-on in their research efforts.
Benefits of Time-gated Raman in Process Industries
Including in the NIIMBL grant, this is one of the projects selected to best align with key areas of focus identified by the NIIMBL and address the industrial needs.
– We are advancing the industrial application of technology by raising the biomanufacturing readiness level with time-gated Raman spectroscopy. This means that we're going to make it more ready for any company to buy a system and apply it to their process lines. We're going to do the foundational science that allows easy application of this technology to industrial processes. I'm very grateful to NIIMBL as an organization and the University of Delaware for supporting this kind of research, Dr. Anderson explains.
As a participant in the project, Pfizer Inc. will be providing the industrial company's point of view.
Applying the funding for particularly time-gated Raman spectroscopy was an easy decision for the project team.
– There's no technology like this out there commercially available. Timegate has boxes ready to ship to do the spectroscopy which was key for this project. Even though time-gated Raman spectroscopy has been around for a while, it's only been available in very highly specialized labs where the equipment has not been available to us for routine application. Also, the technology itself is absolutely critical, the ability to monitor and make Raman measurements while minimizing fluorescence appearance, Anderson describes.
Revolutionary Influence on Pharmaceuticals and Biomanufacturing
The research team has a strong trust in the groundbreaking impact of the results and the time-gated Raman technology. The scientists are determined to show the upgrade it provides to the pharmaceutical industry and biomanufacturing.
We're excited about bringing this technology to the pharmaceutical industry and that it will solve some industrially relevant problems. We're enthusiastic about the idea that we will be doing some science that will be able to provide better bioproducts manufactured less expensively that will ultimately benefit patients, Anderson states.
Dr. Anderson is extremely pleased to be able to advance the processes in the biopharmaceutical industry.
– I have spent my career developing analytical tools for the pharmaceutical industry and biomanufacturing and now, I'm very excited to contribute to this revolutionary step by using time-gated Raman spectroscopy in bioprocessing. This will change the ways bioprocesses are monitored in the biopharma arena.