RWTH Aachen University organised the second international mining symposia (AIMS) during 13th-14th June. There were almost 200 participants from 29 countries and all continents. 20 universities and 74 companies were present with some preventatives from science and research, media and authors. Timegate participated the first time by having a booth and a talk. We also participated on the panel discussion on the last day. Altogether the event was well organised, presentations were very interesting and there were many opportunities for networking.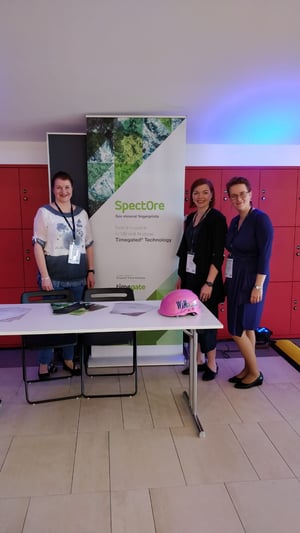 Three ladies welcoming participants to Timegate booth.
On Thursday, the key notes discussed about potential of marine mineral resources for future global mining supply and how mineral characterization and grouping can assist in sustainable georesources management. Clean mobility was also discussed in terms of responsible sourcing of raw material and circular business models. Morning sessions gave wide insight to utilizing tailings and mine wastes for sustainable mineral production and more effective mining. Technology and digitalization will transform mining, and their contribution to sustainable and intelligent mining were the topic of the second session. Good examples of big players leading the way in industry for more sustainable future and adopting new technologies gave an idea of the way where the industry is going to.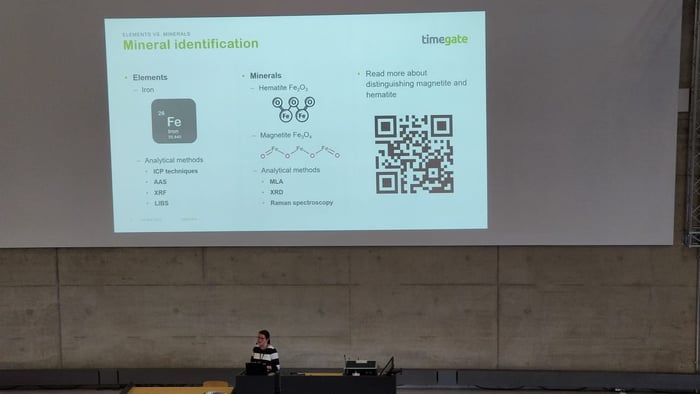 CEO Mari Tenhunen giving a presentation at AIMS.
Afternoon sessions concentrated on methods and measurements and mining challenges. The methods and measurements introduced ideas based on different technologies, such as LIBS, LIBS-XRF, XRF-XRT and pXRF along with time-gated Raman technology in rapid mineral analysis by Timegate. The mining challenges session provided insight to safety and production challenges, danger assessment of soil liquefaction and control measures of shield support.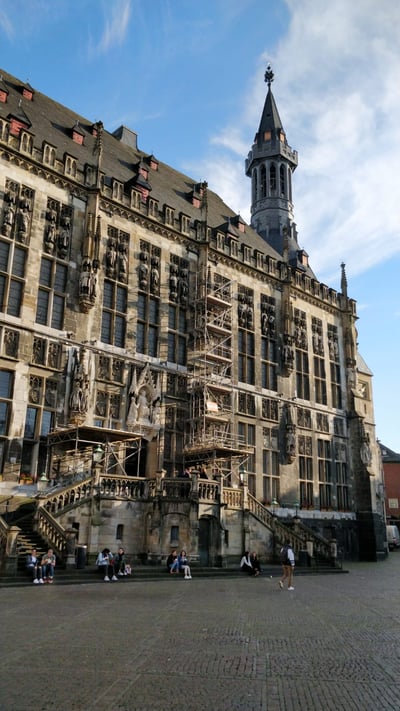 The gala dinner on Thursday took place at the Aachen Town Hall (Coronation Hall) with great food and guided tours.
On Friday morning the sessions discussed about resource extraction and new systems, which looked forward to optimizing mining processes with real-time monitoring and selective grinding. Opportunities in developing high-performance underground mineral clusters based on combined geotechnologies were also introduced. The other session about new systems talked about intelligent control for automated cyber physical systems, sand and gravel mining and how mining industry can adopt to the industry 4.0. Lifecycle thinking is a key for decarbonisation of mining and use of artificial intelligence can help in safety and connect mine operations.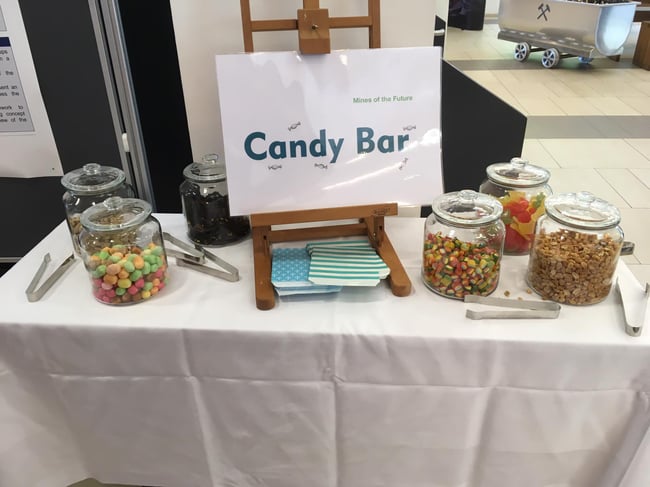 Candies and science.
Responsibility and sustainable mining regarding local community engagement and mine closure were the topics of the last session. Life of mine could be expanded beyond the closure and new kind of business models could rise from post-mining phase. Women empowerment and creating better conditions for women can increase their participation on science and work life. Stakeholder engagement for acceptance in exploration was also introduced.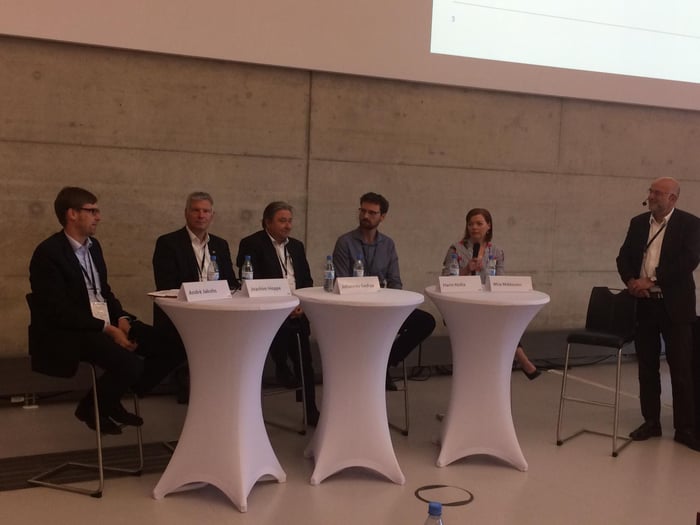 Business Development Specialist Miia Mikkonen from Timegate participated on the panel discussion.
The symposia ended with panel discussion regarding mines of the future in terms of technical, social and environmental challenges and how to overcome these. Digitalization is changing the industry and adopting new technologies in different phases of the mining process can help in seeing the big picture instead of single operations. Mineral and rock type identification will provide new kind of information from the mine resource base and thus help increasing profits. From the social and environmental point of view cleaner technologies and more effective mining process can decrease environmental risk. Corporate social responsibility is cutting through the mining operations and thus social acceptance increase.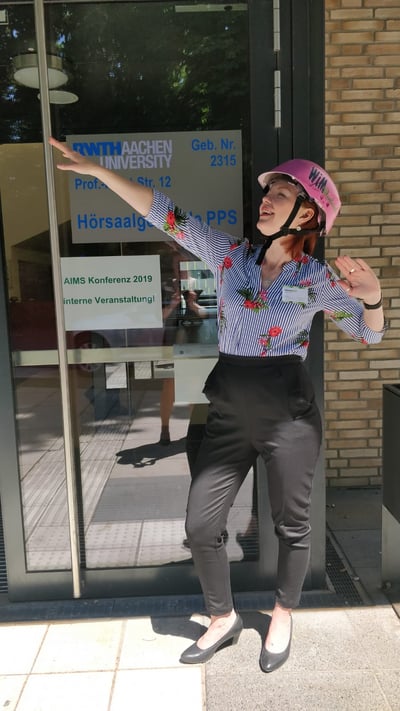 See you again next year!
Thanks for the organizers, you have created a great symposia! We will come again next year and meet again with all the professionals from different fields of research and industry. We got lots of good information and new insights to mining industry in Europe.
Want to know more about time-gated Raman spectroscopy and it´s applications in mining industry? Click the link for more information!