Quality control in pharmaceuticals
Especially in the pharmaceutical research and development field the quality of the end product are regulated by stringent regulations by the authorities. To ensure its proper effect on the patient health, a product has to be manufactured with exacting quality. The FDA has published the Guide to Process Analytical Technology (PAT) in 2004, which defines a risk-based scientific approach, and aims at supporting innovation and efficiency in pharmaceutical development, manufacturing, and quality.
In light of these, it is of paramount importance to monitor the quality of the medicines and spectroscopy has played a major role. The great advantage of Raman spectroscopy over other techniques is that it only requires minimal to no sample preparation. Hence, Raman spectroscopy can be employed as a versatile tool for process analytical technology (PAT) for raw material identification, in-situ monitoring of reactions in developing active pharmaceutical ingredients (APIs), and for real-time process monitoring. Further for anti-counterfeiting applications, a spectral library of various pills can be developed and used for verification.
Our time-gated technology enables both contact and non-contact measurements and it is robust, insensitive to water, suitable for automation as well as a flexible measurement technique. Timegated® Raman resolves the current limitations in the production of pharmaceuticals by providing time-resolved detection of Raman signals by fluorescence suppression, and the possibility to simultaneously determine the fluorescence lifetimes. Visit our technology page for more information of the fluorescence suppression with Timegated® Raman.
All of this is done to enable more effective pharmaceutical manufacturing.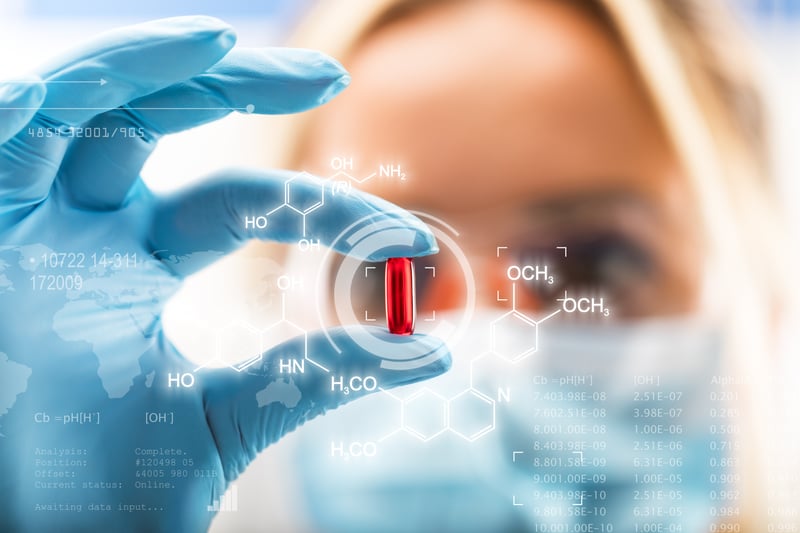 Benefits of Timegated® Raman Technology in pharmaceuticals
Polymorphism and solid state variation present opportunities as well as great challenges in the pharmaceutical industry. Investigation of the properties of different forms of a commercial drug can lead to new products with improved onset time, greater bioavailability, sustained release properties, or other therapeutic enhancements. However, this investigation needs efficient tools.
Timegated® Raman can provide several advantages for the studies of polymorphic forms of pharmaceutical substances and drugs, it
Gives information about polymorphic structures and chemical composition of pharmaceutical substances
Provides ease of use with efficient rejection of fluorescence interference
Does not require any sample pretreatment
Can be easily adapted to various different measurement and monitoring needs, e.g. to drug development, API synthesis, formulation and manufacturing, dissolution and bioavailability studies and to validate the drug stability in storage