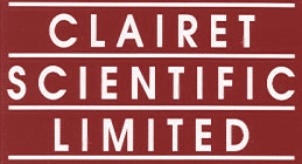 Timegate Instruments´ distributor network expands with one more area as Clairet Scientific Ltd starts to provide Timegates spectrometers in the United Kingdom and Ireland. Clairet has been on the business since 1994 and during the past years it has become an expert with personal touch.
Clairet supplies, calibrates and supports spectrometers for monitoring and controlling processes both on-line and lab measurements. They are specialized in finding solutions for production to provide simple, timely results at-line. The long experience of Clairet helps to meet the customer measurement needs in finding the most suitable technology for them.
Clairets customer segments cover many large industries, like pharmaceuticals, fine chemicals, bulk chemicals, agrochemicals, polymers, biotech processes and food with related sub-categories. They also represent many other instrument manufacturers, like Kaiser Optical Systems, Ondax, Zeiss, ABB and H2OPTX. Timegates CEO Mari Tenhunen is very satisfied with the agreement: "Clairet is customer-oriented and solution-driven company that genuinely wants to help their customers. Together with long experience and strong brands in their product category we are very glad to have them as our distributor in the UK."
More information about Clairet on their website www.clairet.co.uk.